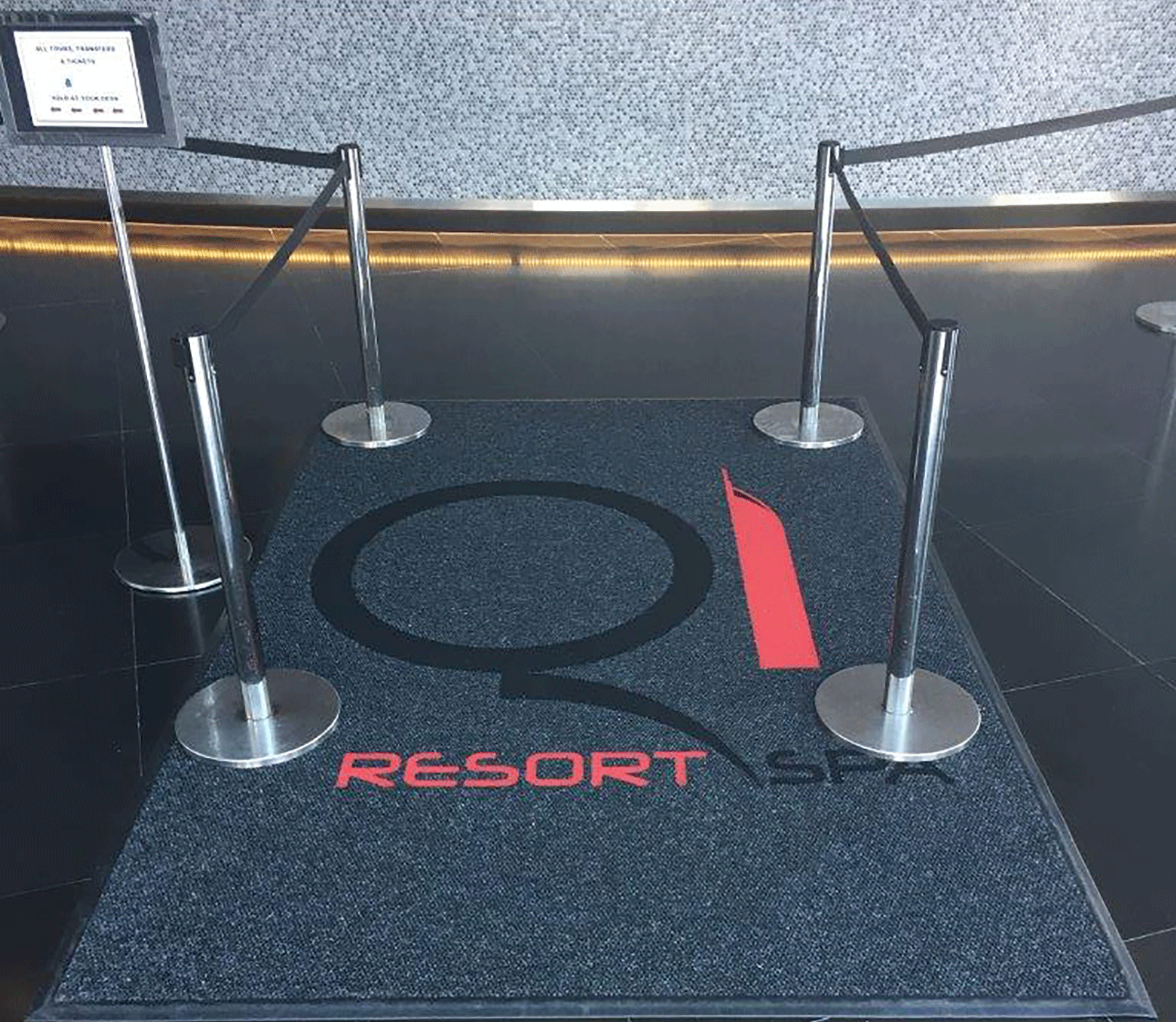 BACKGROUND: Inside Q1 Resort & Spa
Q1 Resort & Spa is an apartment hotel in the heart of Surfers Paradise on Queensland's Gold Coast. The 78-storey resort boasts 526 apartments, 320 of which are managed by Q1. On average the resort accommodates 1,200 guests each night with over 90 per cent occupancy for most of the year. It operates a 24-hour reception area within the bustling resort.
THE BRIEF: Durability and safety in a high traffic area
Q1 Resort & Spa has a busy reception area that operates 24 hours, seven days a week. The tile floor is functional and sleek but could become slippery if wet and open to potential damage. Mat World Sales Manager Brad Smith identified the need for a mat in the area which would be both functional and aesthetically pleasing.
Q1 Resort & Spa General Manager John Wilder noted that Q1 had been using Mat World for lift and entrance mats for about eight years. So when Smith suggested a reception mat Wilder was understandably interested.
"We've been using the Supernop mats in our entrance area for several years, so I knew they were hard wearing and functional," explained Wilder. "We have very little signage in our reception area, so having our logo incorporated into the mat made sense."
THE SOLUTION: A mat that is durable, reduces liability and incorporates our brand
When Mat World's Brad Smith visited Q1 to discuss the replacement of the lift mats he noticed that they had recently refurbished the main desk so he recommended a mat incorporating the logo to go in front of the new desk and complement it.
"With an average of 1,200 people staying each night in Q1, our main reception area has plenty of foot traffic," said Wilder. "During really busy times we use a queuing control system, so it's important to have effective floor covering.
"We deliberately keep signage to a minimum in our reception area to give it a clean look, so putting our logo on the floor in the mat was an ideal way to reinforce our brand. Not only does the Supernop mat look good, it protects the floor and helps prevent slips," added Wilder.
The Mat World Supernop is a quality, hard wearing entrance mat featuring a slip resistant, heavy duty vinyl backing. Easy to roll and move, the Supernop. is suitable for entrance areas with high traffic and is great for both wet or dry areas. For custom logo versions of the Supernop, Mat World manufacturers on site by cutting out the logo design and relaying it into the mat.
OUTCOME: After sales service that goes above and beyond
After committing to Mat World's Supernop inlay logo mat as the new commercial entrance mat of choice for Q1, next came the design. Wilder says the design process was straightforward.
"I provided our logo and was sent designs to sign-off. The size of the logo and colours were adjusted and soon after the mat was produced and delivered. Mat World was very easy to deal with throughout the process."
To discuss how Mat World can help you with your commercial or industrial mat needs, contact us now. We also invite you to spend some time exploring the newly designed Mat World website.